Hey Guys,
HAPPY NEW YEAR!!!!
I know I have been absent on the reading and blogging scene for a while but I'm here to tell you why and what is going to be going on in the coming year.
To be honest, I'm not really reading all that much anymore and it's kind of great to be having an extended break. No stress over reading book in a certain time frame and when I come home from work now I just kinda chill out in front on the TV rather than reading because I'm just exhausted all the time and I can't hack it anymore. The good news is that I am planning on getting back into reading and blogging again. I am still on an extended break indefinitely but I am slowly going to get back into it.
So now for the reason, last year saw me accept my very first permanent, full-time job teaching and it was way more exhausting and tiring than I thought it would be. When I get home I no longer want to read as my eyes are far too tired to focus enough. But my plan for thie year is to try and read a bit more on weekends. If I can focus on my Netflix addiction during the week then I hope to read a bit more each weekend.
Okay so now what to expect on the blog:
The blog is going to be very quiet. Much quieter than usual. Last year I bought my own domain for the blog so K-Books is going to be moving over there this year but progress is very slow and it'll probably take about half the year or something due to my, and my helpers, very busy schedules.
There'll be no memes this year. You can expect to see Waiting on Wednesday and I Still Haven't Read to come back to K-Books eventually but it takes a while for me to find what book I want to feature and then to do the post. Time that unfortunately I don't have. There will be no vlogs this year either. Vlogs take so much time to edit and I just don't have the time to do them right now so all my monthly posts will be up in written post-form only. Also my book haul and monthly wrap up will be combined into one post. I don't have time to be doing them seperately anymore.
So what have I been reading while I've been away you ask? Not much to be honest. I haven't actually completed a book since September when I started my full time contract. But I DO want to share with you my Top 10 Books of 2015 as well as my challenges for 2016.
Top 10 Books of 2015:
These are in no particular order. Just my favourites of the year.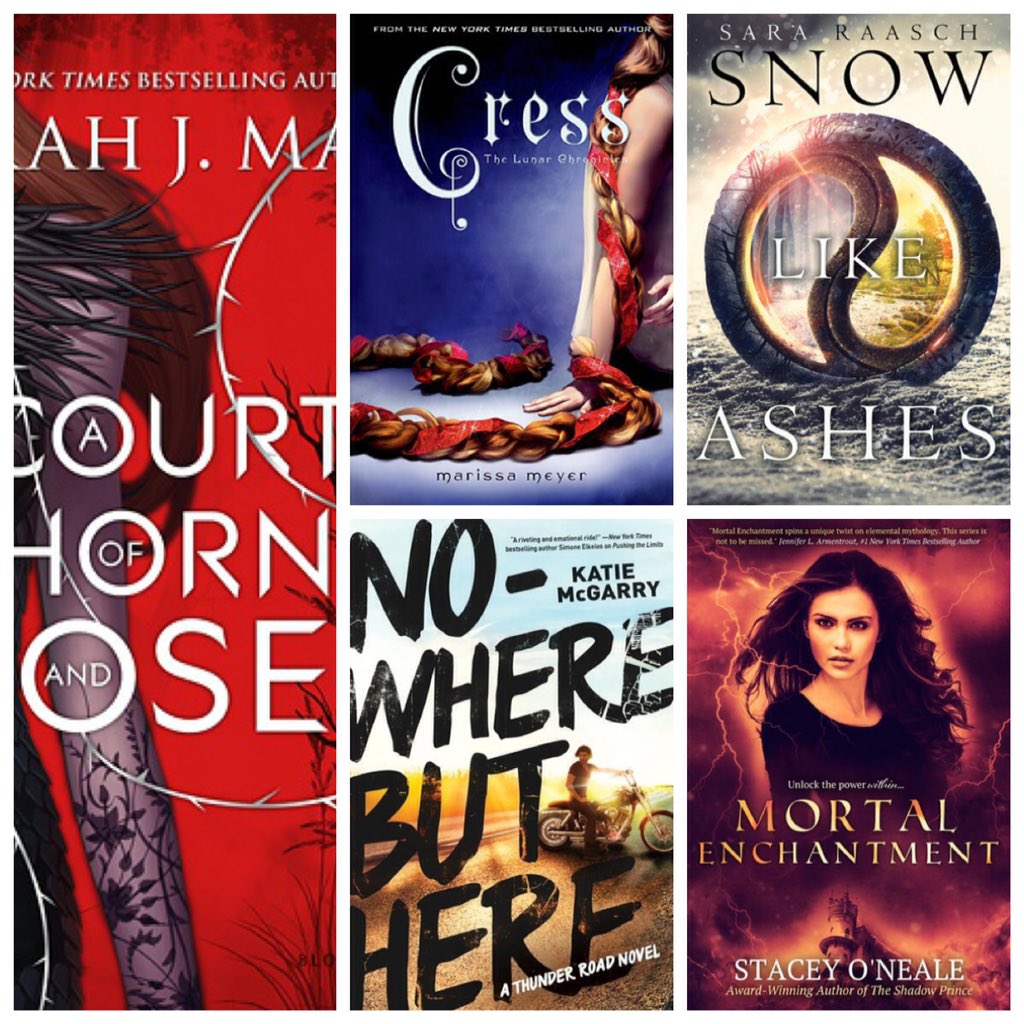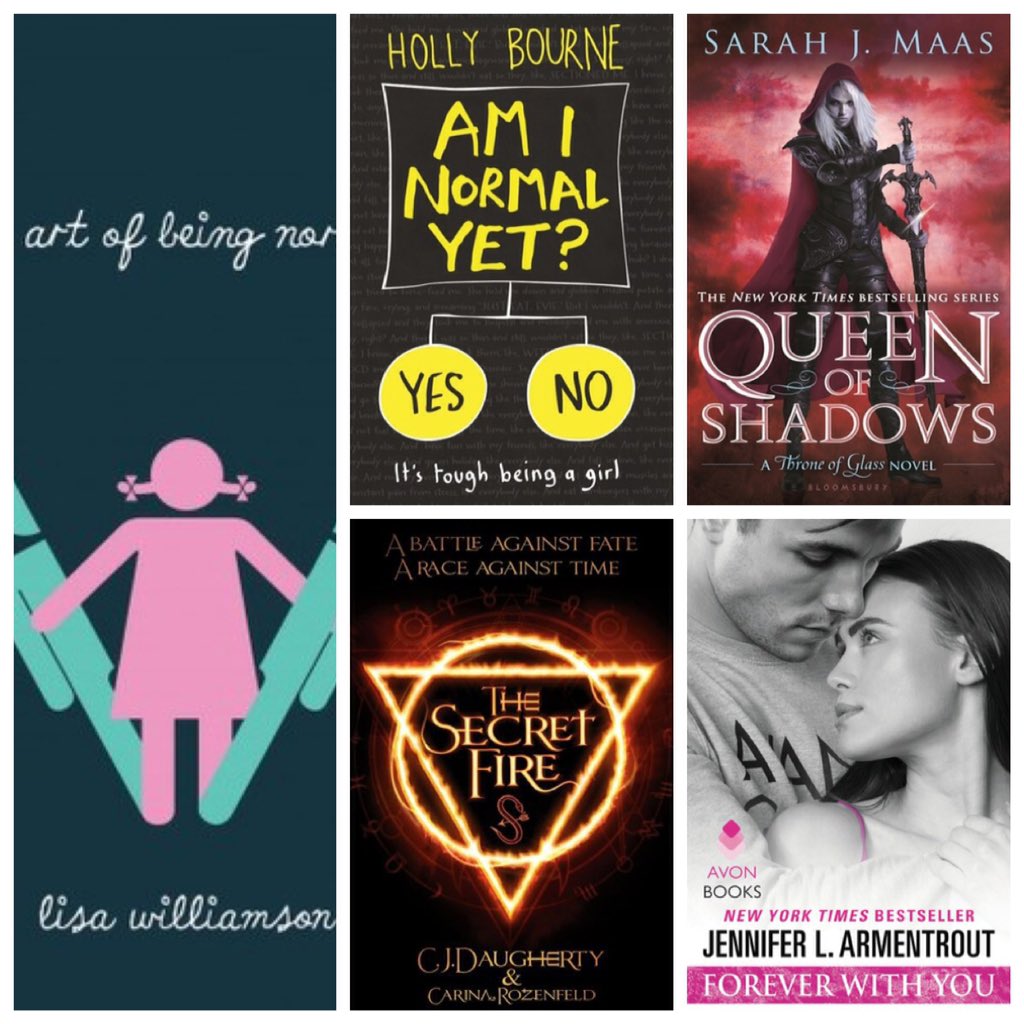 A Court of Thorns and Roses (ACOTAR #1) by Sarah J Maas
Cress (Lunar Chronicles #3) by Marissa Meyer
Nowhere But Here (Thunder Road #1) by Katie McGarry
Snow Like Ashes (Snow Like Ashes #1) by Sara Raasch
Mortal Enchantment (Mortal Enchantment #1) by Stacey O'Neale
The Art of Being Normal by Lisa Williamson
Am I Normal Yet? (Normal #1) by Holly Bourne
Queen of Shadows (Throne of Glass #4) by Sarah J Maas
The Secret Fire (Alchemist Chronicles #1) by CJ Daugherty and Carina Rozenfeld
Forever with You (Wait for Me #5) by Jennifer L Armentrout
I loved these 10 books and all of them completely blew me away.
2016 Challenges:
In 2016 I am aiming to read 40 books. A lot lower than usual but like I said I'm not reading much. As well as that I'm trying to get through some of the series that I have started but not continued or finished. So for this challenge I've chosen 12 books (1 per month) of books where I have started the series but not continued. These are the ones I have chosen...
Winter (Lunar Chronicles #4) by Marissa Meyer
Rebel Spring (Falling Kingdoms #2) by Morgan Rhodes
A Mad Zombie Party (White Rabbit Chronicles #4) by Gena Showalter
Stolen (Heart of Dread #2) by Melissa de la Cruz
The Eternity Cure (Blood of Eden #2) by Julie Kagawa
If I Should Die (Revenants #3) by Amy Plum
The Heir (The Selection #4) by Kiera Cass
Untold (Lynburn Legacy #2) by Sarah Rees Brennan
Sever (Chemical Garden #3) by Lauren DeStefano
Ensnared (Splintered #3) by AG Howard
The Wicked Will Rise (Dorothy Must Die #2) by Danielle Paige
Invaded (Alienated #2) by Melissa Landers
These are the ones I have picked out but hopefully I will manage a little bit more.
Thanks for reading and I will speak to you all very soon.