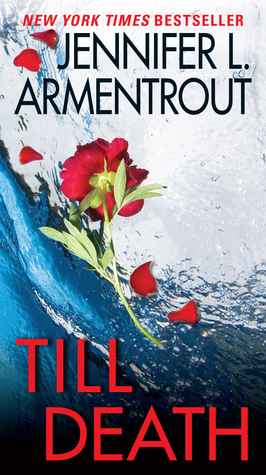 Till Death
Jennifer L Armentrout
Published By:
William Morrow Publishing
Publication Date:
February 28, 2017
Date Read:
January 23, 2017
Genre:
Adult - Thriller / Mystery
Source:
ARC from Jennifer L Armentrout
Formar:
E-Book
From Goodreads:
In New York Times bestselling author Jennifer L. Armentrout's gripping new novel, a young woman comes home to reclaim her life—even as a murderer plots to end it. . .

It's been ten years since Sasha Keaton left her West Virginia hometown . . . since she escaped the twisted serial killer known as the Groom. Returning to help run her family inn means being whole again, except for one missing piece. The piece that falls into place when Sasha's threatened—and FBI agent Cole Landis vows to protect her the way he couldn't a decade ago.

First one woman disappears; then another, and all the while, disturbing calling cards are left for the sole survivor of the Groom's reign of terror. Cole's never forgiven himself for not being there when Sasha was taken, but he intends to make up for it now . . . because under the quirky sexiness Cole first fell for is a steely strength that only makes him love Sasha more.

But someone is watching. Waiting. And Sasha's first mistake could be her last.
"People don't get second chances often, Sasha, but we got one, and I'm not going to let that pass us by."
It is no surprise to anyone how much I adore Jennifer L Armentrout. She is without a doubt my favourite author of all time and I couldn't wait to read
Till Death
. I'll be honest and say this is not my usual kind of read. I very rarely read adult books as I much prefer YA books and thrillers are usually the kind of books I avoid. I don't particularly like them but I just had to read this one with it being by Jen and oh my god it was phenomenal. I loved every moment of it.
Till Death
is the story of Sasha, the one and only surviving victim of serial killer The Groom. When she moves back home everything is starting all over again and she is right in the middle of all of the targets. It seems that The Groom is at large once more. Cole has never forgiven himself for not walking Sasha to her car that night years ago and when she comes back Cole will not allow anything else to happen to Sasha. This time he will protect her, like he should have done ten years ago.
I loved every single second of this book. It was just utter perfection. The characterisation, the world, the pace... everything was perfect. I loved it all. Jen once again captured me right at the beginning and I absolutely couldn't put it down until I had finished it. I ended up reading this one in under 24 hours as I just needed to know what was going on, what would happen and I adored every second.
Cole is just a perfect character. He is adorable and amazing and the more I read the more I fell in love with him. He was just utterly perfect. Sasha was such an amazing character. I loved seeing her grow throughout the book. You see the softer side to her as she deals with the fact that a serial killer is once again at large and you see the stronger side of her where she will not allow herself to be a victim again and I loved reading from her point of view.
Till Death
was perfect and it is the perfect thriller for people who don't like thrillers. I adored every moment and I usually dislike thrillers so much. Usually I prefer a good romance or fantasy book. This book has the perfect mix of mystery, thriller and romance and I genuinely loved every moment of it. Thanks to Jen I will no longer think of thriller/mystery books and avoid them. I will actually give them a go because this was such an amazing book.
If you love a good romance with a dash of mystery and intrigue this is the book for you. I have read every single one of Jen's books and this one is way up there as one of my all time favourites. It's one I will read again and again. I loved it so much. A must-read for sure.
"For a while I thought you were the one who got away. That one day I would somehow piece it all back together, but I was wrong. You were the one. You ARE the one."