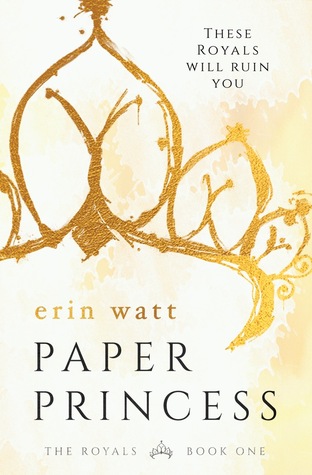 Paper Princess (The Royals #1)
Erin Watt
Publication Date:
April 4, 2016
Date Read:
July 25, 2016
Genre:
NA - Contemporary Romance
Source:
Bought
Format:
E-Book
From Goodreads:
From strip clubs and truck stops to southern coast mansions and prep schools, one girl tries to stay true to herself.

These Royals will ruin you…

Ella Harper is a survivor—a pragmatic optimist. She's spent her whole life moving from town to town with her flighty mother, struggling to make ends meet and believing that someday she'll climb out of the gutter. After her mother's death, Ella is truly alone.

Until Callum Royal appears, plucking Ella out of poverty and tossing her into his posh mansion among his five sons who all hate her. Each Royal boy is more magnetic than the last, but none as captivating as Reed Royal, the boy who is determined to send her back to the slums she came from.

Reed doesn't want her. He says she doesn't belong with the Royals.

He might be right.

Wealth. Excess. Deception. It's like nothing Ella has ever experienced, and if she's going to survive her time in the Royal palace, she'll need to learn to issue her own Royal decrees.
"This place is like the Gardem of Eden. Beautiful but full of danger."
Paper Princess
is a book that I honestly hadn't heard very much about. I'd seen the cover around a little but I didn't really look into it until I saw that Jennifer L Armentrout, like my favourite author of all time, had blurbed it and said how good it was. After that it was voted as one of the two books of the month in my online book club so I bought it and started it... and oh my gosh this book was so addictive I seriously loved it so much. And coming from someone who isn't a major fan of NA contemporary books, the fact that I couldn't stop reading really says a lot about this book.
Ella hasn't had the best life so far. Moving from place to place wherever her Mom's next boyfriend or job is and then Ella finds herself having to take jobs she doesn't want in order to help her Mom. After her Mom dies she is completely alone until Callum Royal, her apparent guardian comes and 'saves' her. Taking her in with his broken family, Ella is totally out of her league with these gorgeous yet intimidating Royal boys. Can Ella survive this world of money and deception?
I seriously loved Ella. I mean what an amazing character to read about and see the story through her eyes. You see the low points of her life and what she has been doing just to survive, and at the age of 17 she has faced things nobody should ever have to. I loved the development of Ella's character. She is totally kick-ass and fierce but with vulnerable sides and I really think that makes her so relatable to all readers. I really loved how she developed and adjusted to this new life and she is probably one of my all time favourite characters in NA.
The Royal Boys. Where should I start? Throughout the first 50% of the book I just couldn't stand any of them. They were complete dicks and bastards to Ella and I just wanted to sucker punch and drop kick each and every one of them. By the time I got to 45% I was just about sick to death of them. I wasn't going to stop reading because I was so invested in this awesome story and Ella but I hated those boys so much. A friend of mine told me how it'll get better and I will end up loving them but I couldn't see how. She was completely right of course and by the end I did love them. They are the epitome of bad boys and while in the first half of the book all you saw was the asshole-ness of them, in the second half you realise that they've also had a hard life and you really do start to like and sympathise with them.
Paper Princess
kept me completely hooked from start to finish. I am not usually a big fan of NA Contemporary novels. A lot of them bore me as I feel like I've read the same story over and over again.
Paper Princess
definitely does not fit into this. It's different from all other NA contemporary novels I've read before. It's raw, powerful and real and I was completely swept away into this story. The ending completely and utterly broke me. I mean man, what a cliffhanger. I am so glad I waited until now to read this because as I write this review the second book in the series has just been released and is downloading to my kindle. I can't wait to see what happens next.
If you're a fan of NA contemporary you will adore this book... if you're not I urge you to read it anyway. This book is filled with drama, deception and hint of romance. I loved every moment of it and I can't wait to see what happens next.
"Your life is transformed, isn't it? Like some princess out of a fairytale. But fairytales aren't read. Girls like us, we'll always turn back into a pumpkin after the ball."