So Saturday July 9th was without a doubt the most exciting day of my entire life. I left home around 7am to travel the 2 and a half hours to Edinburgh, Scotland. It was the day I have waited since like October 2015 for. The day I was going to meet my favourite author of all time. The moment I heard that Jennifer Armentrout... yes THE Jennifer L Armentrout was going to be in Scotland for the Romance Reader and Author Event in Edinburgh I knew I had to go. I've only waited like 5 years to meet her... I was not missing out on this chance.
When I arrived in Edinburgh I immediately met up with my friend, Lesley and we headed to the event together. I was so excited I felt slightly sick. As soon as I got in I headed for JLA's table. She was ticketed you see so I just had to get a number straight away so I could see her as soon as I possibly could. After that I decided to head over to Wendy Higgins' table. I mean if I was asked my favourite ever author it's obviously Jen... my second favourite author is a joint between Sarah J Maas (whom I have already met) and Wendy Higgins. I love Wendy! So I went and joined her queue. Her table just so happened to be right next to Jen's and as I am excitedly waiting to see Wendy and slightly Stalker-like staring at Jen because JLA was in the same freaking room as me and I was freaking the hell out! Anyway while I was waiting for Wendy all I heard was Jen saying "excuse me for a moment" to the girl she was signing books for and then when I looked over she was walking towards me and she hugged me.
JENNIFER L ARMENTROUT CAME OVER AND HUGGED ME!!!!!
And I cried so hard. I couldn't believe I was actually there hugging my favourite author of all time and she was talking to me and she recognised me and I couldn't stop crying!!!!!!
Then I got to Wendy's table and I was so excited to meet her and she seemed to excited to meet me. I don't understand why anyone would be excited to see me but I was so happy and I can't believe the first time I met Wendy I was crying but I think she understood! She was the sweetest and she also hugged me and she was sat with Elizabeth May!!
THE
Elizabeth May and I was so devastated that I didn't know she was going to be there! The Falconer is one of my favourite books but she was super nice and signed a post-it note for me to stick in my book. Wendy even told her how awesome I was and that I read everything. I love Wendy! She is so awesome and I hope she comes to the UK again so I can meet her. If you love Wendy keep reading for a signed bookplate!
The next thing I did was head over to meet the very awesome Amy Plum. I absolutely love her Revenents series and I just had to go and get the three books signed. Amy is so nice and it was so so funny. Amy had just been talking to another authors cover model and she was quite affected by him. It was so funny and adorable.
At RARE this year there were a lot of authors attending that I hadn't heard of or read anything by so since hte majority of the authors I wanted to see were ticketed and I was waiting for my numbers to be called I thought I'd just walk round and see who was there. As I was walking round I saw my long time Goodreads and Facebook friend Terri E Laine. She was so so awesome and I loved finally meeting her. She got so super excited and told one of the event organisers how she had finally met me which was so adorable and nice to hear. By this point when 3 authors had recognised me and got excited to meet me I kind of felt a bit like a rockstar. It was so awesome and I was so starstruck to meet them.
Just after that mine and Lesley's numbers were called for Kresley Cole. Kresley... freaking... Cole. And this is where it got crazy. I had 1 book to be signed by Kresley. Lesley on the other hand had like 25+ to be signed. It took both of us to carry her books. Kresley was super nice and she is so pretty! She was adorable and I loved meeting her. I really need to read some more books of hers for sure!
Soon after this me and Lesley decided to go have some lunch and after lunch it was time. The moment I had been waiting for for my entire life... okay not my entire life but the past 5 years for sure. Jennifer L Armentrout came back from her lunch and they called my number so I went and joined the queue for her signing and this is where me and Lesley swapped places. This time she had 1 book for Jen and I had like a billion. Okay more like 15. The closer I neared to the table the more I started to shake. I couldn't believe it. I know Jen had already hugged me but I was about to actually talk to Jen. I couldn't believe it. I got to the front put my books down and Jen got up and hugged me so much before telling the rest of the queue how I was one of her very first readers. I was so speechless and couldn't believe it. Wendy Higgins even got how big of a moment this was and took a sneaky picture of us from her table! Me and Jen just stood and talked about how this was such a long time coming. Looked like she had wanted to meet me for the past 5 years too and she is coming back to the UK next year and I am so excited as I will get to meet her again. This right here was the most amazing moment of my life and I am still in shock that I finally got to meet Jen. Jen even saved me a super awesome poster of Seth from her Titan series and she signed by JLA shirt too. She is the most awesome person I have ever met in my entire life.
Following Jen I went and saw Samantha Young and Christina Lauren. They were both super nice and super awesome. Their books are awesome and I just loved getting to finally meet them. #RARE16 was one of the best events I have ever been to and it was absolutely incredible getting to meet so mant authors, seeing so many fellow book lovers in one place and getting to meet my favourite author of all time. It was surreal, exciting and just downright amazing.
Keep reading for a super awesome RARE giveaway
GIVEAWAY!!!!!
To celebrate this wonderful event and my meeting the most awesome authors in the world I have some prizes for you all.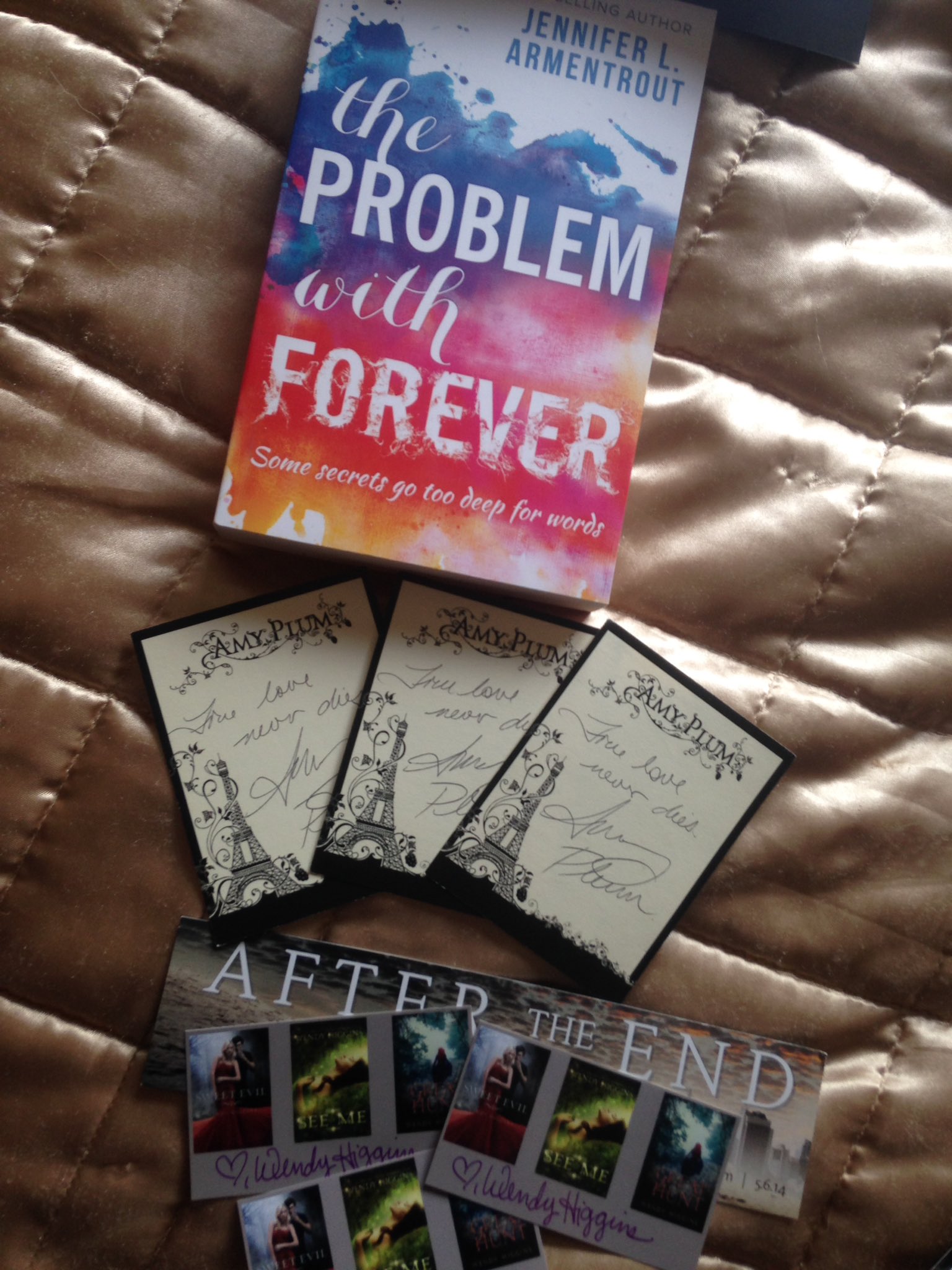 There will be 3 winners:
Winner 1: Signed copy of The Problem with Forever by Jennifer L Armentrout
Winner 2: After the End bookmark and signed bookplates from Amy Plum
Winner 3: Signed bookplates from Wendy Higgins