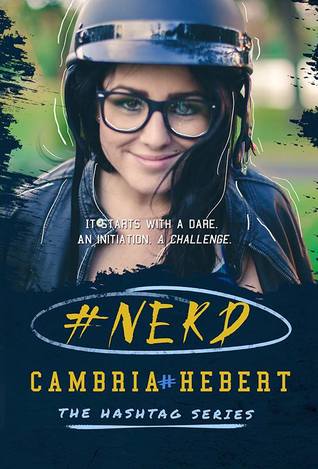 #Nerd (Hashtag #1)
Cambria Hebert
Publication Date:
November 1, 2014
Date Read:
December 25, 2014
Genre:
NA - Contemporary Romance
Source:
Bought
Format:
E-Book
From Goodreads:
Two people from completely different worlds are about to be thrown together…

In more ways than one.

She wants to keep her scholarship. He wants to stay on the team. An awkward alliance doesn't even begin to cover Rimmel and Romeo's relationship.

But that's about to change.

It starts with a dare. An initiation. A challenge.

Quickly, it turns into more. But when you're a victim of your status, there is no room for anything real. The rules are clear and simple.

Stick to your circle.

And never fall in love with anyone on the outside.
I have been such a big fan of Cambria Hebert's since I read her debut,
Masquerade
, a YA Fantasy. I fell in love with her world, her characeters and her writing so when I heard about this NA Contemp series I couldn't wait to get started on it and I wasn't disappointed.
I just knew that a book called
#Nerd
would most definitely be the book for me. I love all kinds of nerdish things and a romance between nerd and super popular guy is definitely the kind of story that I devour in one sitting and just love. And I really liked this book.
NA Contemporary is an ever-growing genre and if I'm being totally honest I am getting really bored of them. To me, they are all becoming the exact same story just different character names and different author. But I didn't think like that in terms of
#Nerd
. I really liked this one and even though it was completely predictable I enjoyed it a lot.
I'm really looking forward to reading
#Hater
and continuing the story of Rimmel and Romeo.
#Nerd
was a great, cute and totally adorkable storyline and I'm really looking forward to reading more.