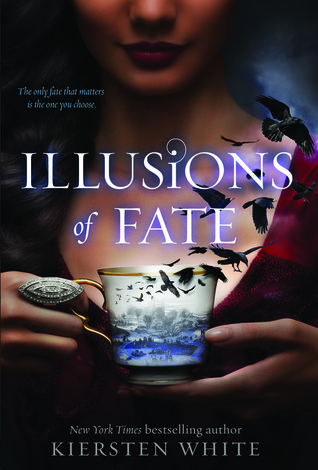 Illusions of Fate
Kiersten White
Published By:
HarperTeen
Publication Date:
September 9, 2014
Date Read:
DNF
Genre:
YA - Fantasy
Source:
eARC from Edelweiss
Format:
E-Book
From Goodreads:
Downton Abbey meets Cassandra Clare in this lush, romantic fantasy from New York Times bestselling author Kiersten White.

"I did my best to keep you from crossing paths with this world. And I shall do my best to protect you now that you have."

Jessamin has been an outcast since she moved from her island home of Melei to the dreary country of Albion. Everything changes when she meets Finn, a gorgeous, enigmatic young lord who introduces her to the secret world of Albion's nobility, a world that has everything Jessamin doesn't—power, money, status…and magic. But Finn has secrets of his own, dangerous secrets that the vicious Lord Downpike will do anything to possess. Unless Jessamin, armed only with her wits and her determination, can stop him.

Kiersten White captured readers' hearts with her New York Times bestselling Paranormalcy trilogy and its effortless mix of magic and real-world teenage humor. She returns to that winning combination of wit, charm, and enchantment in Illusions of Fate, a sparkling and romantic new novel perfect for fans of Cassandra Clare, The Madman's Daughter, and Libba Bray
This was one book that I was really looking forward to reading. I absolutely adored Kiersten White's Paranormalcy series and so when I heard about this and saw the cover I couldn't wait to get my hands on it. I was so excited when I got approved for this through Edelweiss. However it really fell flat for me and I ended up DNF'ing it.
I still absolutely love Kiersten's writing style. She truly has a talent. I put my not liking this book down to my own fault. I didn't research this book well enough and had I done my research into this book a little bit more I doubt I'd have even picked it up.
This book is very much more on the historical side of things than the fantasy sides of things and I really don't like historical books. They bore me so much and as intrigued as I was by the fantasy side of the book I was just not interested enough. I didn't invest in the characters enough to see this through.
Illusions of Fate has the potential to be amazing for those who enjoy historical fantasy book but for me it just wasn't my kind of book.