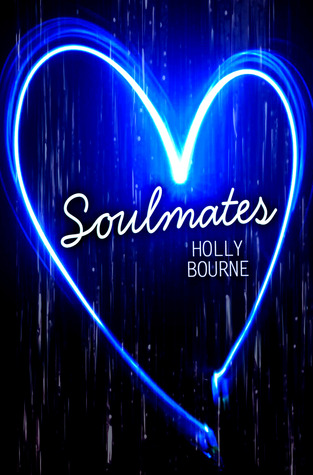 Soulmates
Holly Bourne
Published By:
Usbourne Publishing
Publication Date:
September 1, 2013
Date Read:
July 24, 2014
Genre:
YA - Contemporary Romance
Source:
Bought
Format:
Paperback
Page:
544
From Goodreads:
Every so often, two people are born who are the perfect matches for each other. Soulmates. But while the odds of this happening are about as likely as being struck by lightning, when these people do meet and fall in love…thunderstorms, lightning strikes and lashings of rain are only the beginning of their problems.

Enter Poppy, the 17-year-old cynic with a serious addiction to banana milk, and Noah, the heart-throb guitarist; residents of mediocre Middletown, sometime students, and…soulmates.

After a chance meeting at a local band night, Poppy and Noah find themselves swept up in a whirlwind romance unlike anything they've ever experienced before. But with a secret international agency preparing to separate them, a trail of destruction rumbling in their wake, (and a looming psychology coursework deadline), they are left with an impossible choice between the end of the world, or a life without love…
"I just don't think it's possible for anyone in the world to love anyone as much as I love you right now."
There are genuinelly no words that I can say that will do justice to this book.
Soulmates
is one of those books that is so beautiful and moving that even months after fiishing it and reading loads of book since you just can't forget and it just stays with you. It's just the most amazing book and I loved every single moment of it. I can honestly say it is one of my favourite books in the world.
Poppy doesn't believe in love. She is a cynic down to the core so when she meets Noah and sparks fly... literally... she doesnt know what to believe. Swept up in a whirlwind romance Poppy finds herself starting to believe in love. But the more her and Noah are together, the more mysterious freak accidents start to happen. With people chasing them Poppy and Noah have to decide whether thier love can conquer all... or are they destined to live a life without love.
Holly Bourne is without a doubt one of the most talented authors I have ever had the pleasure of having read their work. To me
Soulmates
is without a doubt utter perfection. Holly's writing style is utterly amazing. It draws you in right from the start and completely hooks you in this world and won't let you go until not only the book is over but until she has crushed your heart into a gazillion pieces.
Soulmates
is one of the most amazing and beautiful books I have ever read but it is the most heartbreaking book I've ever read. Seriously there are no words to explain how I felt after reading this book. It destroyed me. I cried my eyes out and sat in a corner and rocked for a good 3 hours after finishing it. It's the most moving, beautiful and brethtaking books I've ever come across but it is also totally soul-destroying... in a good way.
If you are a fan of YA Contemporary novels
Soulmates
is a must-read. It is the best contemp I have ever read and I know I will read it again and again as it is just utter perfection. It has everfything you could possibly want. A heartstopping romance, exciting action and the best characters to follow. But it is also utterly heartbreaking and soul-destroying. You will cry for days after reading this one but it is so worth it as it's the most moving, self-sacrificing and beautiful love story I have ever read. Go and buy this one right now. The heartbreak is worth it!
"I feel like I have all the time in the world with you. I feel like we're forever."