Last weekend saw the arrival of the one event I, and many other UK book bloggers, had been longing for since... well... forever. July 12th and 13th 2014 saw the arrival of the first ever young adult book convention to be held in the UK. YALC (Young Adult Literature Convention) was put forward by Childrens book Laureate, legend Malorie Blackman in conjunction with Booktrust. Mergine with the ever popular LFCC (London Film and Comic Con) it was without a doubt an incredible success with hundreds of thousands flocking to Earls Court for the event and checking out the incredible "book zone".
This is my wrap-up of the weekend and my experience of what is possibly the best weekend of my life.
The Journey To YALC:
With me living in little 'ole Teesside, a part of the North East of England, I had an extremely early morning on Saturday. Getting up at 5am I wasn't even sleepy. I was far too excited. Because it was time for YALC! The first EVER UKYA book convention. Having already packed everything after a quick coffee it was time to head to the train station to catch the 7:10am train to London Kings Cross. My first trip to London and I was very excited!
After a 3+ hour train journey and a London Underground Tube I was ready to hit LFCC and YALC. I was most definitely NOT expecting the amount of people that were there. I was so overwhelmed. I have honestly never seen so many people in one place. Having already bought my ticket for entry in advance I got to skip the enormous queue and after half an hour of waiting I was in!
And when I say a lot of people I mean a LOT! They had to close the doors as they were at capacity at 12pm! It was so crazy hot in there as the air-con was apparently not on someone made this. If you weren't there you won't accept that fact of how accurate it was. I went through 5 bottles of water in one day. Craziness!
YALC Day One: Saturday
Once I got in, although I was still anxious about the amount of people there, I was so excited. These were my kind of people. People who love Doctor Who and Game of Thrones and BOOKS! I took a wander around the book stalls which were AMAZING! and there were lots of amazing publishers there!
The Events:
Saturday's events kicked off with a talk on Dystopia with Malorie Blackman, Sarah Crossan, Patrick Ness and James Smythe. By the time I got to the event the tickets for the events were all gone. I hear this was amazing and included a welcome speech from Malorie Blackman in Klingon. Awesome Sauce right there! Other talks throughout the day included ones about graphic novels, fantasy books and heroes of horror with numerous authors on each panel.
There were also numerous workshops on writing and blogging but they were all in such high demand I didn't get into any of them. But that was fine. I was here to meet authors, bloggers and go to the signings.
The Signings:
Saturday saw me meet many amazing authors from the likes of Sarah Crossan, dystopia queen to queen of contemp Holly Bourne. I started my signings off with Sarah Crossan, fresh from her dystopia talk. I was armed with her brand new book
Apple and Rain
that isn't due for release until August 14, 2014 and she was the sweetest.
Next I headed for Rainbow Rowell, whose queue was crazy. People were queuing from 1pm and her signing didn't start until 2:15pm. She was due to finish signing at 4pm and she was still at it at 5:30pm so major kudos to Rainbow for continuing when she didn't even have to. I also got given a great Fangirl tote bag from her publicist which I adore.
I am kinda sad I didn't get my Patrick Ness books signed but his signing was at the exact same time as Rainbow's and by the time I got out of that queue and saw the queue for Patrick's I just couldn't bare to stay in that queue. *sad face*
Next up was the slot of Kim Curran, Amy McCullogh, Holly Bourne and Natasha Ngan. No way did I think I would manage to see all 4 but I did. I headed for Holly's line first as her newest book, The Manifesto of How to be Interesting, due for release August 1, 2014, was on sale and I managed to grab a few copies to be signed. She was so awesome and she called me "Ruffle girl" which made me laugh because I brought her chocolates that we have in the North East that you can't get down south.
Natasha Ngan's new novel, The Memory Keepers, due for release September 4, 2014, was on sale at YALC also but when I got there it was sold out. I was devastated as it was the one book there I wanted. While waiting for Natasha's signing I met the wonderful Rosi from Hot Key Books (I was so excited to meet her) and she sorted me out with a copy of The Memory Keepers after they had ran back to their office for ore. We had a whole 'in-line purchasing' thing going on.
I was also thrilled to meet Kim Curran, Amy McCullogh and Lucy Saxon on Saturday.
After that I headed off to find my hotel. I was freaking EXHAUSTED! I'd gone straight there from the train so was carting my suitcase around all day in the sweltering heat! My biggest regret from Saturday was the fact that I really wish I had gone to drop my case off at the hotel first. But the day was still awesome.
YALC Day 2: Sunday
Sunday was better! There was less people there which was a relief and it was a LOT cooler. Apparently they had found the air-con switch! AND I wasn't carting my bag around.
The Events
:
Again there were lots of workshops and talks and this time I got a ticket for the one I really wanted. "I'm too Sexy for this Book" with Cat Clarke, Non Pratt, Beth Reekles and was headed by the amazing Queen of Teen James Dawson. It was hilarious! From start, when James demanded his crown, to end. They discussed sex in YA novels and was an insightful experience, especially discussion New Adult and how the majority of them are not NA but just YA books with sexy times in. I am so thrilled that I got to witness it as it was the only one that I wanted to see all weekend. Other talks included things like how to get published, YAs not just being for kids and the female dominance of YA.
The Signings:
I was thrilled to meet Non Pratt, James Dawson, Beth Reekles, Meg Rosoff, Alexia Casale
and Julie Mayhew on Sunday.
The best part of my day was definitely meeting Non, discovering that she too is originally from Teesside and she actually hugged me! She is one of my favourite authors and her book, Trouble, is one of my favourite books ever!
Others: James was absolutely hilarious and laughed at me when I said I hadn't read his book yet as I was too scared. Alexia was oh so crazy but in such a fantastic wat and Meg Rosoff asked for my blogger card. Seriously OH. MY. GOD!
I am also sad that I never got to meet Holly Smale but her line was huge and I was exhausted and it was at the end of the time and I just needed to sit down and chill out.
The Bloggers:
One of my favourite parts of YALC was that I met some of the bloggers I have been friends with for years. I met Faye and Debbie and Daphne and Laura. One I was crazy excited to meet was Lucy, the blogger behind Queen of Contemporary and the genius mind behind Project UKYA. She is so crazy awesome and we are already planning for me to go see her in Bath and go round the book stores.
The Books:
So, as expected, I brought back a whole lot of books! I took like 24 with me to get signed, I came home with 42 books including gifts for friends and books for giveaways. All in all not bad.
So I came home with these...
These are ones I picked up that are not released yet, three of them which are signed *happy dance*
Thanks to ATOM who gave me The Young World free for review. You guys rock!
Other Comic Con Stuff...
Honestly, the majority of my time was spent in YALC. I rarely escaped from my little book haven but I did for one major thing. To meet the one and only Lena Headey aka Cersei Lannister from the best series ever, Game of Thrones. She is so short and cute and so lovely. Such a far cry from her character. I only met her briefly as they get the pics over so damn fast.
*squeee*
Carrie Fischer also walked past me with her super cute dog but it was so fast I couldn't get a picture.
I also went in search of some merch and found this crazy awesome GoT shirt. LOVE IT!
In Conclusion: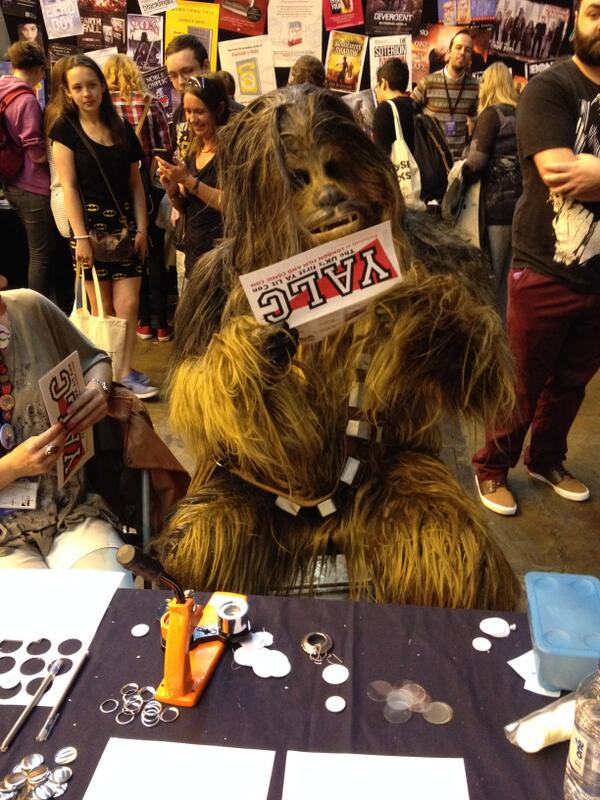 So basically YALC was a phenomenon and undoubted success. I really hope they take this as an indicator of what a fab yearly event this would be. For YALC2015 a part of me would love for it to be held at its own venue so it could be even bigger. But then aain there was a sort of magic of it being at LFCC and Spiderman or Chewbacca could just walk around the corner.
The whole weekend was utterly fantastic. I can't wait for YALC2015.
Giveaway:
1 Signed Copy of Soulmates by Holly Bourne
1 Signed Copy of Manifesto of How to be Interesting by Holly Bourne
1 Signed Copy of Trouble by Non Pratt