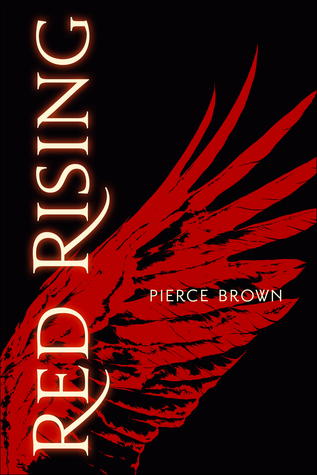 Red Rising (Red Rising Trilogy #1)
Pierce Brown
Published By:
Hodder and Stroughton
Publication Date:
January 28, 2014
Date Read:
May 22, 2014
Genre:
YA - Dystopia
Source:
Review Copy from Hodder and Stroughton
Format:
Hardback
Pages:
382
From Goodreads:
The war begins...

Darrow is a Helldiver, one of a thousand men and women who live in the vast caves beneath the surface of Mars. Generations of Helldivers have spent their lives toiling to mine the precious elements that will allow the planet to be terraformed. Just knowing that one day people will be able to walk the surface of the planet is enough to justify their sacrifice. The Earth is dying, and Darrow and his people are the only hope humanity has left.

Until the day Darrow learns that it is all a lie. Mars is habitable - and indeed has been inhabited for generations by a class of people calling themselves the Golds. The Golds regard Darrow and his fellows as slave labour, to be exploited and worked to death without a second thought.

With the help of a mysterious group of rebels, Darrow disguises himself as a Gold and infiltrates their command school, intent on taking down his oppressors from the inside.

But the command school is a battlefield. And Darrow isn't the only student with an agenda...
Being a huge fan of YA dystopia novels when I heard about this one I was really looking forward to it. When I got this book for review from the publisher I was really excited to get started on it. Unfortunately Red Rising did not live up to my expectations.
I thought Red Rising sounded like a new, unique and original concept for a YA Dystopia, a genre in which there are hundreds of thousands novels circulating at the moment. I was really looking forward to it and was expecting to be drew in and taken on a journey. Unfortunately this didn't happen. I found Red Rising very slow and boring. I didn't connect with the characters well and found myself not really caring what happened to them. While reading all I really wanted was to be reading another book. One I was interested in as this one was just not holding my attention whatsoever. I found that while reading my mind was wandering and thinking of other things so I realised I'd just read 5 pages and didn't have a clue what had actually happened and I didn't care enough to go back and find out.
Overally Red Rising was a disappointement for me. It had potential to be great but it was so slow paced in the beginning that I just ended up giving up. Definitely not for me.