Books:
Bloodrose (Nightshade #3) by Andrea Cremer*
Daimon (Covenant #0.5) by Jennifer L Armentrout*
Half-Blood (Covenant #1) by Jennifer L Armentrout*
Pure (Covenant #2) by Jennifer L Armentrout
I know I know, you're thinking but you already have the Covenant books. Technically these are MY books I bought as the books came out but I sent them over to my good friend Jen at At Random and she got them signed for me and they only just got back this week so I thought I would add them to my Showcase Sunday anyway.
Wanna see inside? You know you do!!!!
YES... I petted the book when I got them back... I just cannot help it they are too pretty and I only cried a little when I saw the messages Jen wrote... okay you're right I cried a lot but it's just so amazing to have my favourite books signed by my favourite author in the whole world. I feel loved this week for sure.
AND because Jen over at At Random is so awesome she also picked me up some extra JLA swag!
AND...
as if this week wasn't awesome enough I got some Sixteenth Century swag from the very amazing Rachel Harris!**
Yes it has a bookplate, trading cards, bookmarks, a tattoo and a bracelet. Totally awesomesauce!!
E-Books:
Books:
A Cutthroat Business (Savanna Martin Mystery #1) by Jenna Bennett
Wife For Hire by Christine Bell**
Wrong Bed, Right Guy by Katee Robert**
Cold Blood (Dirty Blood #2) by Heather Hildenbrand
The Phantom Diaries (The Phantom Diaries #1) by Kalin Gow
Sacrifice (Descendents #2) by Mayandree Michel
Thanks To:
* Jen @ At Random and Jennifer L Armentrout
** Rachel Harris
*** Entangled Publishing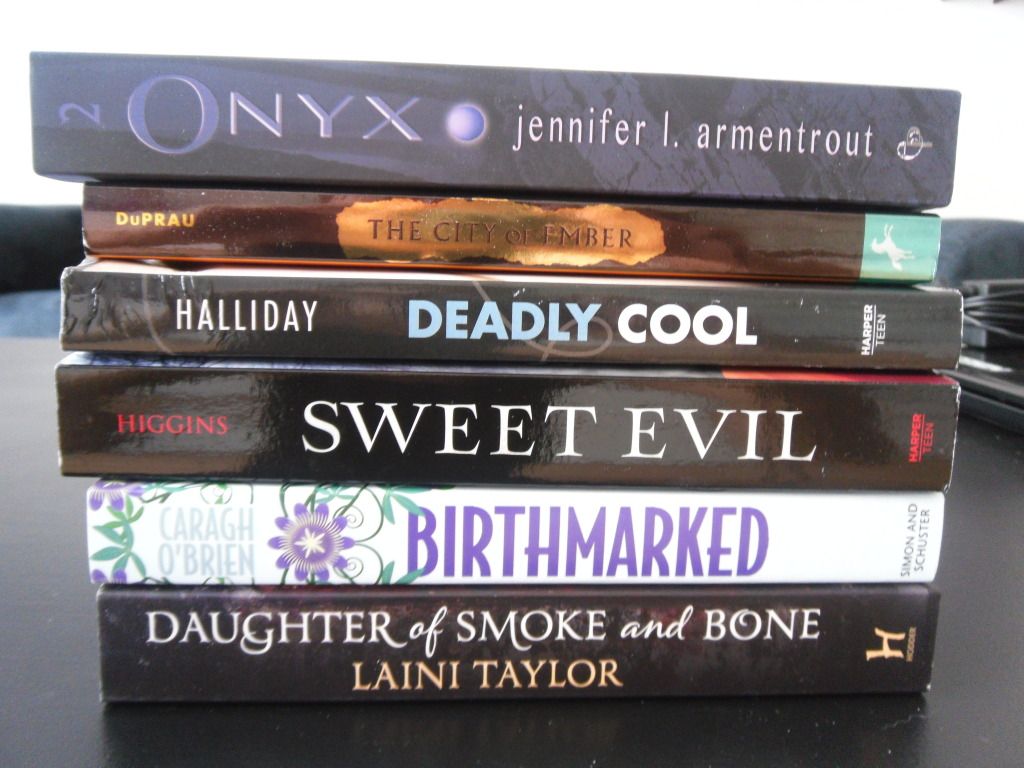 Books:
Onyx (Lux #2) By Jennifer Armentrout
The City of Ember (Book of Ember #1) By Jeanne DuPrau
Deadly Cool (Deadly Cool #1) By Gemma Halliday *
Sweet Evil (The Sweet Trilogy) by Wendy Higgins **
Daughter of Some and Bone (Daughter of Smoke and Bone #1) )By Laini Taylor *
E-Books:
Immortal Rules (Blood of Eden #1) by Jullie Kagawa ****
Thanks to:
* Kay @ K-books
** Vanya @ Ya Story Teller
*** Emma
**** Tiffany @ A Purrfect Read