Oh yes guys,
I am not just here to tell you to vote for Aiden but Daemon is up again.
We both have tough matches today and me and Val are pulling out all the stops for our boys.
Daemon is up against Peeta from The Hunger Games. With the movie and everything going on The Hunger Games is everywhere... and I get it! I do! I am such a huge Hunger Games fan. It started my dystopian obsession.
BUT!
Peeta is no Daemon. That's for sure. Daemon is an ass... but he is super swoon worthy and who wouldn't want an alien with those gorgeous green eyes living next door to you???
I WOULD!!!!!
The Hunger Games is a series that has been out for years... it's time for the new characters to take over the literary world. Peeta has had his time... but it's out with the old and in with the new so you know what to do!
VOTE #TEAMDAEMONFTW!
You can vote for him here
Now onto my boy... my Aiden! The most perfect phenomenal character out of any book... sorry Daemon I love ya but nobody compares to my Aiden!
Aiden won his last match against Ash and believe me... that was freaking tough!! Well we have another tough one! Dimitri from Vampire Academy. When I heard this I was like... please... someone kill me now! Not only is Dimitri one of the first characters I ever loved BUT his advocate is a good friend of mine. Love ya Stacey!!
BUT
I am gonna fight all the way for my boy!! He is perfect.
I could tell you all the reasons why to vote for my boy but they are all there on my advocate post
HERE
Instead I'm going to tell you that by Aiden winning you WILL! make the Gods happy. After his first win we had sunshine for 3 days here in the North-East of England!
Did you read that?
DID YOU
DID YOU
DID YOU?
Do you know how long it has been since I saw sunshine? Let alone for 3 whole days! My mind couldn't even comprehend what it was... and surprise surprise... we have rain again! So vote for Aiden and make the gods happy so they don't strike you down with lightning bolts or something. It could happen... and if it does your only thought as you get rushed to hospital will be... damn! I should not have angered the Gods... I should have voted for Aiden!
Your conscience is telling you I'm right... right? Listen to it!!!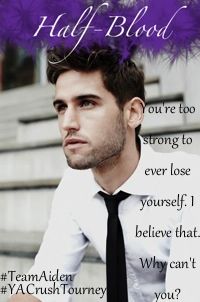 VOTE #TEAMAIDENFTW
Me and Val are good friends and together we make #TeamJLA. Jennifer L Armentrout is without a doubt the best damn author EVER! She's amazing! And we want you to vote for Jen's boys and vote #TEAMJLA
Of course that's not all Jen of course has some awesome incentives. BUT remember you can't have any of them until BOTH boys get to that milestone.
So you gott vote for both!!
Wanna know what she's offering...
Well... check it out!
750 Votes
Teaser from Deity
Teaser from Onyx
1100 Votes
A Signed ARC of Onyx (Signed by JLA, Pepe and Stzella)
1600 Votes
A Teaser from Cursed
A Teaser from Daemon's POV
2100 Votes
A Daemon Invasion Swag Pack Giveaway
2800 Votes
A small scene from Deity in Seth's POV
3400 Votes
Teaser from Onyx, Deity, Cursed and Unchained
WINNING VOTES:
Aiden - A Seth POV from Deity
Daemon - A sneek peak at the "Library Scene"
Yes we all agree. Jennifer is the best!!
I don't know about you but I NEED those Teasers and POVs. So what you waiting for? GO VOTE!
Vote Team Aiden here
But that's not all... I also have a giveaway
A pre-order of Deity and Elixir!!
IF Aiden wins... I will add another JLA book... of your choice... already released or future release!!
All you gotta do it vote for Aiden and share on your blog, twitter or facebook that you voted!
So GO GO GO!
#TEAMAIDENFTW
#TEAMJLA



a Rafflecopter giveaway
*FOR EVERY MATCH THAT AIDEN WINS I WILL ADD ANOTHER JLA BOOK TO THE GIVEAWAY!
It will last for as long as Aiden is in the tourney!!