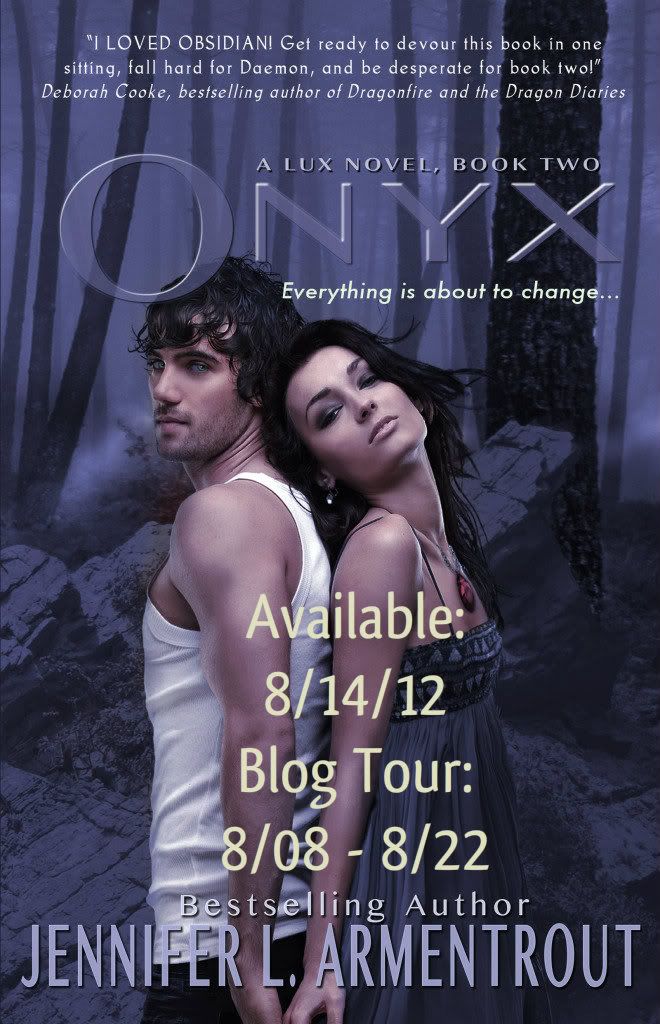 There are no words to explain how excited I am to be on the blog tour for Onyx, the second book in the Lux series, by the phenomenal Jennifer L Armentrout.
Jennifer, as must people know, is my favourite author of all time and I have read and adored all of her books so to be on the blog tour for one of her books is such a great honor.
Onyx (Lux #2)
Jennifer L Armentrout
Publication Date:
August 14, 2012
Publisher:
Entangled Publishing - Teen Imprint
Genre:
Paranormal Romance/Sci-Fi
Length:
366 Pages

Synopsis:
Being connected to Daemon Black sucks…

Daemon's determined to prove what he feels for me is more than a product of our bizarre connection. I've sworn him off even though he's running more hot than cold these days. But against all common sense, I'm falling for him. Hard.

Our relationship issues aren't out biggest problem…

The Department of Defense is here. If they ever find out what Daemon can do and that we're linked, I'm a goner. So is he. And when a new boy shows up a school with a secret of his own, things get complicated fast. I need to choose between my own instincts and Daemon's.

But then everything changes…

I've seen someone who shouldn't be alive. Daemon's never going to stop searching until gets the truth. What happened to his brother? Who betrayed him? And what does the DOD want from them—from me?

No one is who they seem. And not everyone will survive the lies.
Buy The Book:
Amazon US
Amazon UK
Barnes and Noble
The Book Depository
To see my review
Click HERE!
And now... A short interview with the one and only Daemon Black!
Thanks for agreeing to this interview
So ... the girl next door? Wanna talk about that cliché? Like, did Katy grab you from the start, or did she have to grow on you?
It is pretty damn cliché, isn't it? The girl next door? The guy next door? Whatever. Kat had to grow on me.
If you had only 3 words to describe Katy what would they be?
Crazy, sexy, cool? Oh, she'd kill me if she saw that. Definitely put that in the interview.
Have you read Katy's blog? What do you think of it?
I've read it a time or two. It's good.
You are obviously very protective of your family. What is your biggest fear?
If you could have one day without worrying about the arum attacks, DOD or the elders where would you go, with whom and why?
I'd take Kat to the largest library on the planet. No clue where that would be, but I think she'd like that.
Aaaand one final question… what's your favorite flavor cookie? *wink*
Chocolate chip all the way.
Oh... Daemon's something isn't he? *fans self*
If you haven't read the series yet... that interview makes you wanna read it right???? If it doesn't I don't know what will! Go read it now. It's the best!!!
About Jennifer:
About the Author:
J
ennifer lives in Martinsburg, West Virginia. All the rumors you've heard about her state aren't true. When she's not hard at work writing, she spends her time reading, working out, watching really bad zombie movies, pretending to write, and hanging out with her husband and her Jack Russell, Loki.

Her dreams of becoming an author started in algebra class, where she spent most of her time writing short stories....which explains her dismal grades in math. Jennifer writes young adult paranormal, science fiction, fantasy, and contemporary romance. She also writes adult romance under the name J. Lynn.
Connect with Jennifer:
Website ~ Blog ~ Twitter
Now... for the thing you're waiting for --- the giveaway!
Well the very awesome people over at Entangled Publishing are giving away One print copy of the first installment of the very addictive Lux series, Obsidian. As it is a print copy the giveaway is only for US only. To enter just fill out the following rafflecopter form.
a Rafflecopter giveaway
If you are a fan of Jennifer's and are international please click here for my international giveaway for 5 pre-orders of Jennifer's upcoming books.
Good luck and thanks for joining me to share the Jennifer love.