Storm Glass (Glass #1)
Maria v Snyder
Publication Date:
July 17, 2009
Finish Date:
November 25, 2011
Format:
Paperback
Pages:
448
From Goodreads: With her unique magical abilities, Opal has always felt unsure of her place at Sitia's magic academy. But when the Stormdancer clan needs help, Opal's knowledge makes her the perfect choice - until the mission goes awry. Pulling her powers in unfamiliar directions, Opal finds herself tapping into a new kind of magic as potent as it is frightening. Now Opal must deal with plotters out to destroy the Stormdancer clan, as well as a traitor in their midst. With danger and deception rising around her, will Opal's untested abilities destroy her - or save them all?
I enjoyed this book. This book is a spin-off from maria v snyders study trilogy. I didn't liked it as much as the study trilogy, but it is still an enjoyable read. And readers who enjoyed the study trilogy will enjoy this one too.
In this book we return to the same world as the study series and that's the point I like about spin-offs, same familiar world, some familiar characters and a new twist to it all. This book contains all those elements. The lead character is Opal who played a minor (but still important) role in the study trilogy. I really liked the beginning of the book and the part about the stormdancers, I was really intrigued about this clan we almost heard nothing about before. Too bad the middle and end of the book are not as good as the beginning. It just missed something, there where many things happening and nothing at the same time and somtimes I had difficulties conecting everything that happened. There where different problems that played a part and I would'e liked it more whenn there was one problem that got most of the attention. In the end everything is somewhat connected, but still.
There are also two things storywise that frustrated me. One is that a problem that should've been solves in the study trilogy plays a part again in this trilogy. I think that problem should've been solved in the study trilogy and not play a part here. And if it was neccesary to introduce them again give them a huger part. Also i was sometimes a bit frustrated with the romance, I won't spoil why. Further I have to admit there where times I was a bit frustrated with Opal because she has so little self-confidence and keeps downplaying her role in everything. And I didn't like the fact that she get's captured so much. I quess the author likes it to let her lead characters be captured, but because this is something you find in every book of this author it get's a bit predictable now.
To conclude: The part that I liked most about this book was the fact that it was a spinn-off and was in a world I already came to love and there was some background from the study trilogy but still a new twist. The story begins really well, but get's less interesting after that and it is also a bit predictable. It is a good book, with a nice story and readers who enjoyed the study trilogy will enjoy this book too. I will certainly read the rest of this series too because I am interested to see what will happen next. And I hope for more story about the stormdancer clan.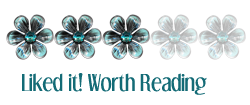 Sea Glass (Glass #2)
Maria v Snyder
Publication Date
: September 1, 2009
Finish Date:
March 9, 2012
Format:
Paperback
Pages:
379
From Goodreads:Like the colorful pieces of sea glass washed up on shore, Opal has weathered rough waters and twisting currents. But instead of finding a tranquil eddy, Opal is caught in a riptide. Her unique glass messengers which allow instant communication over vast distances have become a vital part of Sitian society. Once used solely by the Councilors and magicians, other powerful factions are now vying for control. Control of the messengers equals control of Sitia. Unfortunately that also means control of Opal. If that isn't enough of a problem, Opal's determination to prove blood magic is still being used is met with strong resistance. The Council doubts her, her mentor doubts her, and even her family is concerned. When her world is turned upside down, she begins to doubt herself. In the end, Opal must decide who to believe, who to trust, and who has control—otherwise she will shatter into a million pieces and be swept out by the tide.
I liked this book better than the first book. We get to know Opal better, but also see some familiar faces from the study series, like Leif and Janco who both play an important role. I also started to like Opal better, I already did like her in the first book, but in this book she makes some though decisions that really emphasize her strength and made me like her even more.
I think that one of the strongest parts of every Maria v Snyder book is the story. These books just have a great story, mostly complex and with many characters, but very good. I always enjoy reading these books and wonder what's going to happen next. This book also had two of the minpoints I find in almost every Maria v Snyder book, the books are a bit predictable, altough I have to admit I was surprised quite often this book. There are also those scenes that you just know something is going to happen and then it usually does happen. And another point is that the lead character always get's captured a few times, this book is no exception. Although both are minor minpoints, I stil felt to need to point them out.
Another thing I really like about this book are the characters. because this is a trilogy in the same world as the study trilogy we get to see new characters, but also some familiar characters. I really like this mix and I think Maria v Snyder did a good job of making a good mix of old and new characters. I also like seeing the relationships develop between the characters.
I also think the ending of this book it worth mentioning. It is very good, with some very big surprises. Also Opal makes a descision at the end which make me like her even more. She really displays her strenght in this book and I can't wait to read what happens next.
To conclude: another great book by Maria v Snyder. I liked it more than the first book. Again great story and characters. And the ending was really good and surprising. I am looking forward to the next book.