Somnium (Halos #1)
Keri lake
Publication Date: December 16, 2011
Finish Date: January 25, 2012
Source: Review Copy from the Author

Format:
e-book
From Goodreads

: A work assignment in Kittery, Maine should be routine for Allie Lynch; nothing more than to prove herself as a brilliant engineer. Instead she finds herself torn between two men: a gorgeous military guard, Colton Briggs, and her devilishly handsome colleague, Drew Costa. To resist temptation, Allie does the only thing she can: she throws herself into her work. But fate has other plans for Allie. Women are going missing all around her, Allie is struck with a series of life-threatening mishaps, and she becomes the obsession of a local deranged psychopath. Thrust into a dark world that she can hardly fathom, Allie must fight for her very survival, open her mind to new realities – and open her heart to the possibility of love. Because both of these men are trouble – but one is a greater danger than she could ever imagine …
It was okay, but not great. I got this book from the author to review. What immediately grabbed my attention was the beautifull cover, dark and mysterious. Those two words also describe the story pretty good. There was a bit of that dark feel throughout the whole book and there is much mystery. There where so many mysterious things happening that I wanted to know what was really happening, but the story didn't really drew me in. It was interesting enough and I wanted to finish it, but there where also many things that could've been better.
First the story. The story starts a bit slow and boring and it really took me some time to get into the book. Overall I liked the story, there was enough mystery and questions to keep me reading. The lead character Allie sees strange things that aren't there and strange things keep happening. She almost dies a few times and all the while I got the feeling that there was something more. Ofcourse there was something behind it all, but I think the explanation was a bit too less and a bit too late. At the end of the book I was still left wondering what exactly happened and who had caused all those almost deaths for Allie. The story was full of small problems and mysteries and it felt like it didn't add up. In the end we do get the explanation, but it just felt a bit off. I had to piece the pieces together myself. You have to think it through and then come to the conclusion who must have caused what, but it isn't all spelled out.
For the most part the story feels like some kind of mystery. The supernatural elements only play a part late in the story. This books is in fact a paranormal romance, but again this really the focus of the book. There are some sex fantasies of Allie and at the end some sex scenes, but the focus lies more on the mystery I think. I had the feeling the story only came really alive at the end of the book.
Then the characters. Somehow I just didn't like Allie, she came over as a bit too naive. And I just couldn't really connect with her. Also when she first comes at the work place where she is going to work she immediately falls in love with two guys. Well obsessed is maybe a better word. She meets them once, both are a jerks and she keeps (day)dreaming about one of them, her day dreams are very vivid and consists of sex scenes. But she hardly knows these guys! Even when the story continues I just couldn't understand why she loved those guys. I also found their relationship progresses too fast.
My favourite character of the book is Getry, the innkeeper. She was like a kind of mother figure to Allie, always helping her, cooking breakfast and dinner for her and just being a very nice and welcoming innkeeper. But she also has a dark past and has lost people very important to her. I liked her. We don't get to know much about most of the characters, this bothered me a bit, but we do get a view at Getry's past and I quess this is another reason why I liked her. I felt I knew why she was this way and that behind that happy exterior she still feels the pain.
Then the worksite. A big part of the story takes place at the worksite where Allie works. But even at the end of the book I still have no idea what kind of work they actually do. The work space is a military bases and Allie writes reports, there is a field and people who work there. But I just kept misisng the whole picture, what exactly they do and why. And because such a huge part of the story takes place here I would've liked more explanation about the work itself and Allie's part in it.
To conclude: I liked the book, there was enough mystery and questions to keep me reading and the supernatural elements where interesting. But the story was a bit slow and boring at first and the explanation was a litle too less and a little too late. I couldn't really connect with the character, but I did like Getry. The romance developed too fast and felt shallow. Overal an oké book, but not great. I will be reading the second book, because I think this series has a lot of potential and it did attract my interest.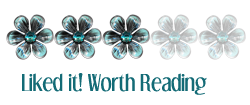 So now you all have read my opinion about this book. And you have a change to win this book! We are giving away 3 e-book copies of Somnium, the winners can choose between epub or kindle format. So fill in the rafflecoptor form below for a change to win!
a Rafflecopter giveaway