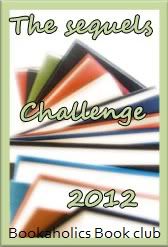 The Sequels Challenge 2012 is hosted by Booksholics Book Club
-To complete the challenge and be eligible for the giveaway at the end you must read at least 24 books in the year
- That's two a month which I think is fair and doable.
-If you don't have a blog then link to where you've reviewed the book, if you didn't review it then link to where you track the books you've read like Goodreads or Shelfari. If you don't have any of these, er I guess link to the book you read on amazon or something lol
-Completing the challenge of 24 books will get you one entry into the giveaway, any additional book after that will get you another entry so keep linking when your finished.
-A sequel doesn't have to be a second book it can be any book in the series excluding the first of course.
-You can sign-up anytime all year.
-It would be awesome if you added the button to your blog or blogged the challenge or even both to show your participation and spread the word but it isn't mandatory.
-As it's a year away I haven't decided on any prizes yet for the giveaway but it'll likely be two or three sequels that are out around this time next year :)
Now sure what books I will be reading for this yet but I have a lot of sequels to be getting on with =)